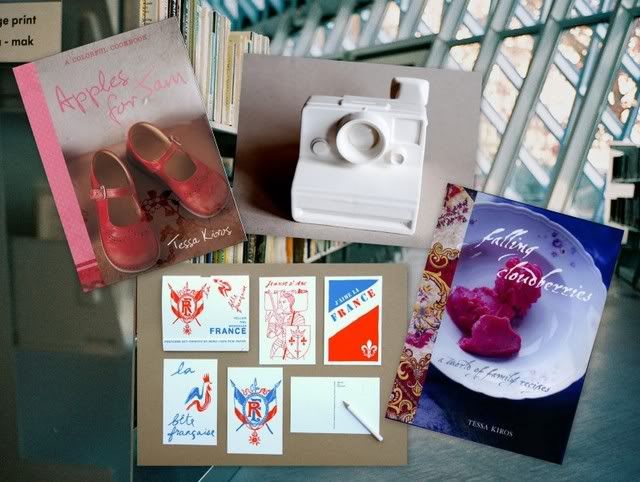 Dearest Reader,
Firstly I think a million and one thanks are in order for the most wonderful welcome and trip down memory lane (er dog collar?!). Amy, Thank You! It's been quite a journey for both of us, one I have been happy to be a part of.
This will be fun, and I hope you are able to come away with something from each post. Be it a recommendation for a good book, a new recipe to try at home, in your dorm or right this minute, or even a great song to keep on heavy rotation for a while. I don't know what it is, maybe I have a little too much time on my hands but I really love finding greatness in a bottle, in a dress, in a stack of hand embossed paper or even a song.
I wholeheartedly believe that something as small as a stick of custom engraved wax for sealing a letter, can not only spruce up your words but your day as you drop it into a corner letter box and walk away happily.
Yellow Owl Workshop, a whimsical little paper goods shop perched atop Bernal Hill in San Francisco, may just do the trick. Artist Christine Schmidt dreams up the most beautiful prints, postcards, correspondence sets and ceramics. And if that isn't enough to inspire curiosity, you can feel good about putting your two 'green' cents in and supporting local!
Two of my favorites amongst the goods, Christine's 'French' Inspired Postcard Collection and this pretty fabulous ceramic Polaroid Camera!
Now I should warn you, you may want to have a snack handy or something to munch on whilst I talk about food. I had a particularly special upbringing in that my mother worked in a professional kitchen for nearly 24 years, and took me along for the ride through out most it. So the topic of food has it's sacred place in my life. The same goes for books, and when you mix, knead and turn out the two you get something beautiful you can make with what you like.
Tessa Kiros is like rose water and pistachios to my rice pudding. She makes everything smell, look, taste and feel like being a child. Like lying on a bed of warm grass in a blue dress with little tiny polka dots all over it. A tattered old white barn on the coast of Iceland and knee length red colored boots to run through forests with.
She is an escape and a darn good cook and collector of all things beautiful. Tessa's two books, Falling on Cloudberries: A World of Family Recipes and Apples for Jam are as rich in prose and recipes as they are in photographs. And it can be a bit daunting and discouraging to have a book filled to the brim with photographs because then you think that's all it is. Just a 'coffee table' book you'll never use. So not the case.
Tessa's recipes are not only simple and accessible but effortlessly decadent and special any time of day, year and occasion. Come on people, warm baked apples and homemade Buttermilk Ice Cream! Light as a Feather Ricotta Gnocchi and Chocolate Panna Cotta.
Thank You so much for reading this far, I hope you'll stay a while – there is plenty of room at this table and so much to talk about… Stay Tuned
xx
Penelope